SOURCE's HIV Counseling and Testing Program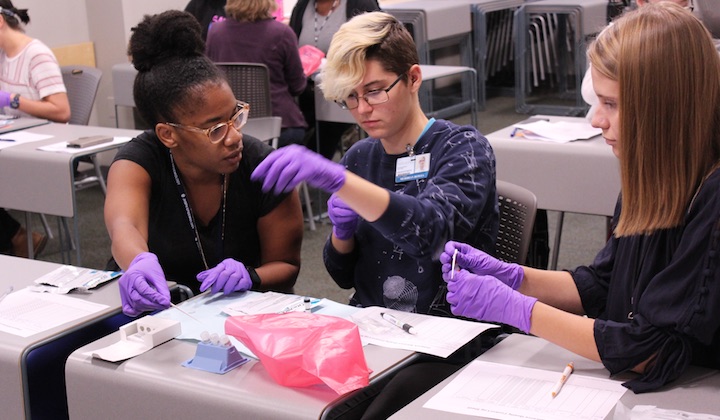 Did you know that Baltimore has one of the highest rates of adults living with HIV in the United States? Do you want to make an impact as a health professional student? Support our community by becoming an HIV Counselor and Tester through SOURCE!
HIV Counseling and Testing Program Information
Program Description
Students selected to go through the HIV Counseling and Testing Program will serve as HIV Counselors at our participating community clinic:
There will be 7 students volunteering this year at HLC, including a student leader. Students undergo training to become certified HIV Counselors in Maryland, participate in orientations and site-specific training, and are required to volunteer at least once a week at Harriet Lane Clinic. Also, to help support students in the program, build community among the volunteers, and create a rich service-learning environment, student volunteer counselors will be required to participate in quarterly discussion groups and reflection activities.
Training Information
Self-paced online modules (6 to 8 hours) must be completed between October 13 – 30, 2023
Volunteers will complete additional site-specific training with Harriet Lane Clinic
A live simulation will be also be scheduled to complete training
FAQs
Where is Harriet Lane Clinic and what population does the clinic serve?
Harriet Lane Clinic, located on the East Baltimore Campus of Johns Hopkins, primarily serves adolescent youth ages 11-25 in a clinic setting and is heavily focused on sexual health counseling. 
How in-depth is the counseling?
The volunteer will be expected to ask about clients' sexual health practices and to promote healthy lifestyles. The training consists of a lot of information about counseling because volunteers should be prepared for multiple scenarios.
What happens if someone is positive?
Volunteers do not provide referrals or post-testing counseling. If someone is positive, then volunteers follow the protocol at each site of alerting a licensed practitioner who then handles those cases.
How many people will I test in a given shift?
This will vary by many factors including site and time of day.
How accessible are the sites to travel to without a vehicle?
Please refer to the Program Requirements for more information about Harriet Lane Clinic's location and accessibility.
How long does the program run?
The official start date for volunteer HIV Counselors & Testers is November 1, 2023 and the official end date is May 17, 2024.