SOURCE National Volunteer Week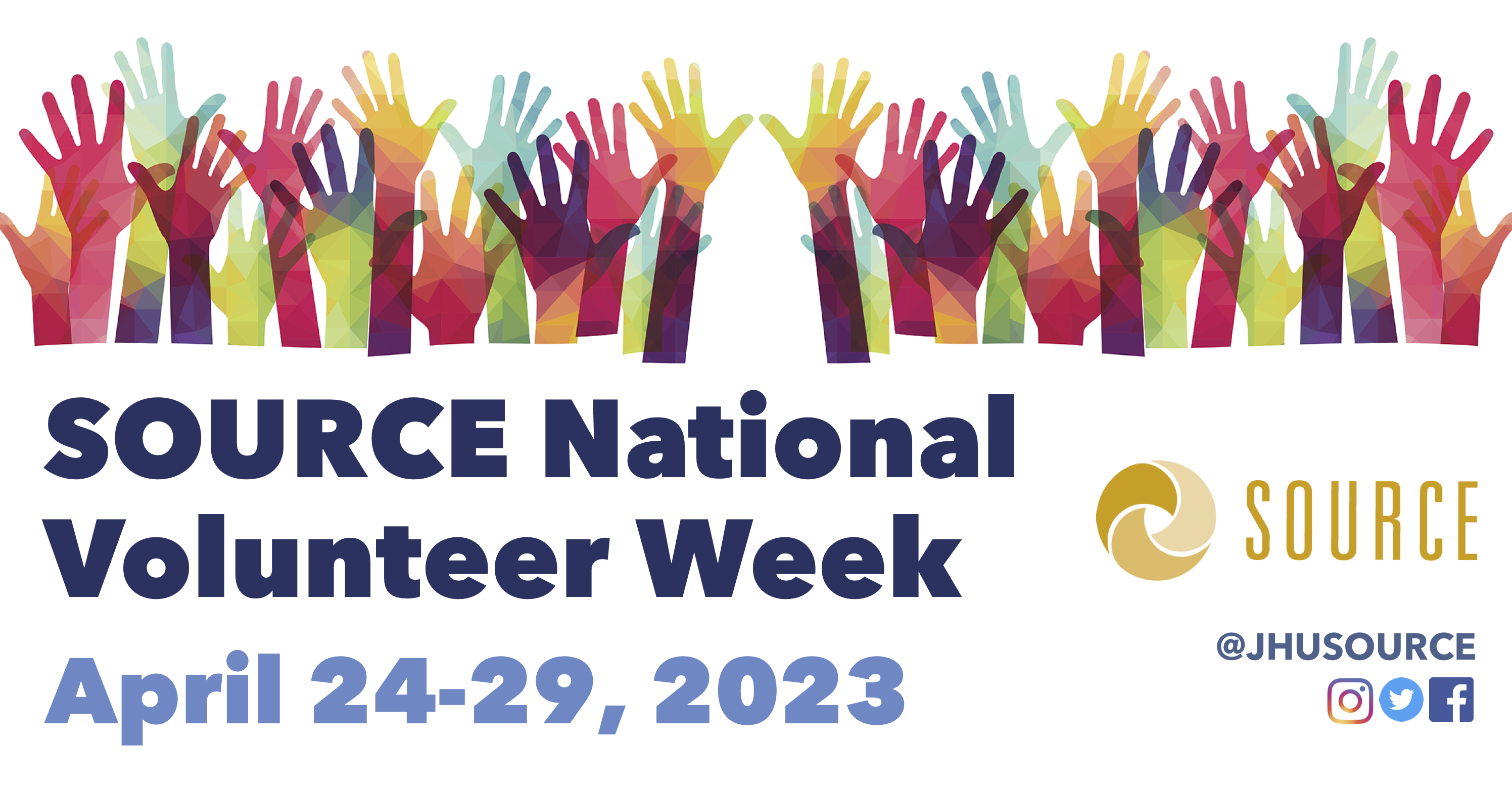 Each year in April, SOURCE hosts National Volunteer Week to highlight and celebrate the incredible service being done in our communities throughout this academic year by our students, faculty and staff in partnership with Baltimore community-based organizations. Various activities are planned throughout the week of April 24-29, 2023, including our Toiletries Donation Drive, a panel discussion featuring speakers from partner organizations, a workshop on harm reduction, and the return of our Spring Tri-School Day of Service. Read more below about our 2023 National Volunteer Week celebration! 
Mon, April 24 | Start of Toiletries Donation Drive
Drop-off Locations in BSPH, SON & SOM | Ends Fri, May 5
Donate new and unopened toiletries for Baltimore families, including: soap, body wash, shampoo, deodorant, shaving cream, razors, Q-tips, lotions, sanitary products, toothpaste and mouthwash. Donated items will be distributed to SOURCE partner community-based organizations.
Drop-off Locations:

BSPH Wolfe Street Building: Wolfe Street & Monument Street Entrances
SON: Lobby
SOM: AMEB Lobby
Co-sponsored with the Anna Baetjer Society (BSPH), Adaptive Sports Medicine Interest Group (SOM), and Asian Pacific American Nursing Student Association (SON).
Mon, April 24 | JHSON Community Outreach Program Poster Session
12:00 p.m. - 1:15 p.m. | SON Carpenter Room A
Hear from students in the School of Nursing's Community Outreach Program about their experiences working with Baltimore community-based organizations in 2022-2023! COP students' poster presentations detail the scope of their projects with different community partners this year.
Tues, April 25 | Narcan and Harm Reduction Training
12:00 p.m. - 1:15 p.m. | BSPH W4030
Hear from the Baltimore City Health Department and Nursing Students For Harm Reduction for an overview about narcan/naloxone, training in how to administer these medicines, and action steps you can take to advocate for harm reduction.
Co-sponsored with the Anna Baetjer Society
Wed, April 26 | SOURCE Volunteer Appreciation and Awards Luncheon
12:00 p.m. - 1:30 p.m. | BSPH W1030 (Anna Baetjer Room) | By invitation only
SOURCE Community Service Awards will be presented to recipients as we celebrate the outstanding service done this year by students, student groups, faculty, staff, alumni and community partners in Baltimore.
Thurs, April 27 | "Gender, Health Equity and Justice in Baltimore"
12:15 p.m. - 1:15 p.m. | Online via Zoom
We will highlight panelists' experiences and discuss the challenges and local lessons of building meaningful service partnerships among community-based organizations, faculty, and students with a special focus on SOURCE core values of collaboration, reciprocity and justice.
Featuring three panelists: 
Angeles Evans, TurnAround, Inc.
Beth Watkins, Asylee Women Enterprise
Angelique Black McKoy, House of Ruth Maryland
Fri, April 28 | Happy Hour, T-Shirt Pickup and Toiletries Drop-Off
4:30 p.m. - 5:30 p.m. | BSPH Student Lounge (1st Floor)
Join the SOURCE team with your classmates and colleagues from across the three JHU health professional schools to gear up for our Tri-School of Day of Service! Pick up your T-shirts for volunteering the next day, and bring in your donations for our Toiletries Drive to support Baltimore families!
Co-sponsored with Insoluble Fraction
Looking to spend some of your weekend giving back to our community? Join dozens of other volunteers from the JHU health professional schools and serve our community at SOURCE partner community-based organizations. One morning of volunteer service can truly make a world of difference! 
Several projects are available to choose from, and are assigned on a first-come, first-served basis, with the following community partners:
Bea Gaddy Family Centers
Baltimore Green Space
Southeast Community Development Corporation