SOURCE Community Involvement Fair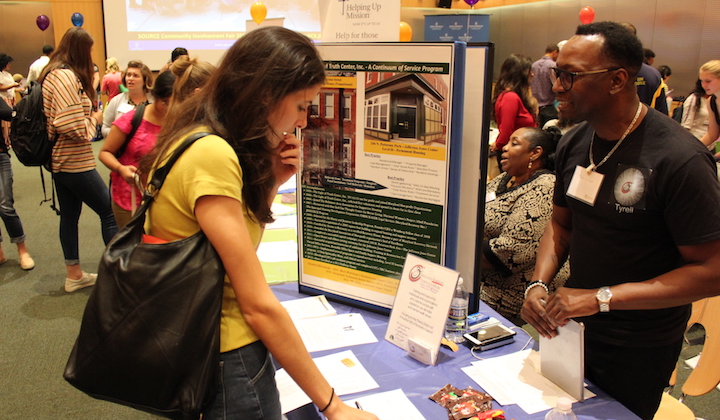 Wed, September 13 | 12:00 p.m. - 2:30 p.m. | BSPH Feinstone Hall
Each year, SOURCE hosts an Annual Community Involvement Fair at the Bloomberg School of Public Health in Feinstone Hall (E2030) where students, faculty and staff can learn how to become involved with local non-profits and community groups. Opportunities with our partner organizations at the fair typically include volunteer positions, internships, capstone projects, research and much more! Join SOURCE and dozens of our partner community-based organizations on September 13, 2023! 
Why should you attend the SOURCE Community Involvement Fair?
Attending our Community Involvement Fair is a great way for you to learn about practical experiences in the field, experiential learning opportunities, volunteer positions, and career enhancement opportunities. This is your chance to speak with community organizations to get a more informed idea about what is available in your area of interest. Be sure to take advantage of this networking event! After you've chatted with our different partners, enjoy free ice cream and take home fun prizes!
Which organizations will be at the SOURCE Community Involvement Fair?
This year's fair will feature a wide variety of partner community-based organizations, including:
Art With A Heart
Baltimore SquashWise
Blue Water Baltimore
Court Appointed Special Advocates (CASA)
Franciscan Center
FreeState Justice
From Prison Cells to PhD (P2P)
Good Harvest Community Kitchen
Green & Healthy Homes Initiative
Habitat for Humanity
Health Care for the Homeless
Helping Up Mission
Historic East Baltimore Community Action Coalition (HEBCAC)
International Rescue Committee
Living Classrooms Foundation
Lori's Hands
Maryland Health Care for All!
Maryland New Directions
Medical Education Resources Initiatives for Teens, Inc. (MERIT)
National Alliance on Mental Illness (NAMI)
Pride Center of Maryland
Reading Partners
Roberta's House
Thread
Total Health Care
View the Fair Layout here to see where each organization will be tabling during the fair
Questions? Contact SOURCE@jhu.edu