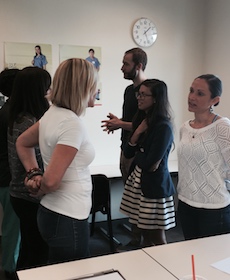 Reflection is an essential component of service-learning. It turns a simple service experience into a meaningful learning experience. Reflecting on community experiences deepens the learning and insights, and strengthens our commitment to community involvement and social responsibility.
If you would like more information on reflection practices, contact our office, SOURCE@jhu.edu.
4 C's of Reflection
When you are designing reflection activities for yourself and your class, it can be helpful to keep in mind these four guiding principles:
Continuous: Critical reflection is an ongoing process. Individuals should process before, during, and after any projects or service-learning experiences they have. Reflection should be a consistent process through a person's education and is integral to a holistic approach to learning.
Connected: Critical reflection should ask students to connect their experiences with the content and theories they have learned in their academic courses. Reflection is not simply a descriptive debrief. It is a way of drawing connections among our experiences, perspectives and disciplinary theories. Essentially, critical reflection can address that commonly noted theory/practice divide.
Challenging: Critically reflecting is not an easy process. It should challenge assumptions and push students to think deeply about themselves, the ways they relate to others, and the things they learn. This also means that faculty should be a part of this process through discussions, feedback and examples of deep reflection.
Contextualized: When building reflective practice, consider where this kind of work is most valuable. Think about how reflection will complement a service-learning experience, discussion or other class activity. Reflective practice should be designed so that it is intentionally drawing lines between course content and its application.
What? So What? Now What?
There are three different areas to cover in creating reflective insights: what happened in the service project, what was gained from the service and what difference it makes for the future.
What?
Objectively report what happened. What happened? What did you observe? What issue is being addressed or population is being served? What were the results of the project? What events or "critical incidents" occurred?
So What?
Discuss feelings, ideas, and analysis of the service experience. What was learned? What difference did the event make? Did you learn a new skill? How is your experience different from what you expected?  What impacts the way you view the situation/experience? What did you like/dislike about the experience? What are some of the pressing needs in the community? How did this project address those needs?
Now What?
Consider the broader implications of the service experience. What are the root causes of the issue/problem addressed? What contributes to the success of a project like this? What hinders success? What learning occurred for you in this experience? How can you apply this learning? If you could do the project again what would you do differently?
Facilitating a Reflection
Seek a balance between being flexible to address the needs of the group and keeping the process focused.
If something notable happens during the service experience that event may be on the group's mind such that successful reflective discussion is difficult. It's important not to force discussion when other issues are present.
Reflection questions often lead to other questions, which may soon take the conversation away from the reflective discussion intended. Sometimes it is important to bring the focus back to the theme or significant topic.
Use silence. Some people need to be able to reflect internally before actively engaging in reflective discussion.
Create equal opportunity for all participants to be involved.
Allow for diversity. Remember that each person may learn and reflect in a different way.
Resources 
Eyler, J., & Giles, D. E. (1999). Where's the Learning in Service-Learning? San Francisco: Jossey-Bass.